Our Trinity Chiropractors Welcomes You!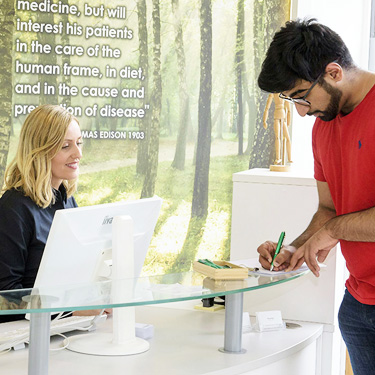 Trinity, our second location, opened in 2015. We are around the corner from the Botanic Gardens in beautiful Goldenacre in Edinburgh. Always uplifting and friendly, our practice is the perfect place to address your healthcare goals and get you the results you're seeking.
Our Approach
Everything in your body is connected. Your brain is the controller of your nervous system. At Connect Chiropractic, our ethos is to get your nervous system functioning better by improving the health of your spine, which reconnects your brain to your body allowing it to work as it should. Whether you have specific symptoms or want better overall health, we help you connect with your potential.
Crafting Customised Plans to Meet Your Needs
Do you want to get out of pain so you can garden, golf or play with your grandchildren? Or perhaps you already feel great and want to stay that way. Whatever your goals are we'll empower you to make the changes necessary to be the best version of yourself. We'll also create a personalised plan of action to help you perform at your peak and achieve the best health possible.
Providing Care for All Ages and Stages
Did you know that chiropractic care is suitable for patients of all ages, from newborns and kids to adults and seniors? We provide patients of every age and stage with natural, high-quality chiropractic care at our practice. Offering care for mums-to-be and helping them experience more comfortable pregnancies are also gratifying to us. Rest assured that the chiropractic adjustments we use are specific and highly effective, aiming to reduce nervous system interference so you may experience better overall health.
Offering a Different Approach to Health Care
If you're seeking an alternative to the conventional medical model which uses prescription drugs and surgery, we provide that at our chiropractic office. Chiropractic is 100% natural and doesn't require drugs or surgery. You'll also be informed about what's going on with your body. We consider the whole patient and jig-saw together their health concerns to provide the best advice and treatment plan. Ready to get started? Contact our practice today to schedule an appointment!

Chiropractor In Trinity | Connect Chiropractic