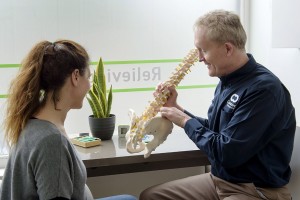 The Results of Our Customer Survey Are In!
During the summer months, we asked you what you thought about us in our Customer Survey, administered by the Royal College of Chiropractors. In total, we received 45 responses for our Leith clinic and 47 for Trinity. We're delighted to say that you, our patients, are very happy with the service we provide.
Some Highlights
Here are some of the key points:
Over 93% of patients said they rated the way they were treated by the receptionists at our clinics as "Very Good" or "Excellent."
An incredible 100% of patients said that if they need to see a chiropractor urgently, they will get an appointment that day.
Waiting times fare well with 70% of patients saying they wait five minutes or less for an appointment.
We were delighted to read that over 85% of patients rated our chiropractors as "Excellent" in how thoroughly they asked the patient about their symptoms, how they were feeling, listened to what they had to say and put them at their ease during their physical examination.
Over 85% of our patients also rated our chiropractors as "Excellent" regarding their patience with questions or worries from patients and their caring or concern for them.
After seeing a chiropractor over 70% of patients say they are able to understand their problems and cope with them better.
Positive Patient Testimonials
We also received a lot of beneficial and interesting comments:
"Fantastic service from this practice and happy to recommend. They have saved my soul so many times!!"
"Have been with Andrew for over 7 years now and I wouldn't go anywhere else (even now I have moved house)."
"So glad I am receiving treatment at Connect Chiropractic because I feel much better and more
positive."
We asked patients for anything that could be improved. Mostly it was no, keep doing what you're doing. Things that occasionally came up were the price and wanting to have a bit more time with the chiropractor. Value for money is something we recognise as very important. We think we compare very well with other health professional treatments and when you consider the outcomes of improved health it is money well spent. We do offer discounts for purchasing multiple blocks of therapies; please see the fees page on our website.
Announcing the Winner of a Real Foods Voucher
Congratulations to Emma Tulloch who won the voucher of £25 for Real Foods for completing the survey!
Thank You for Your Feedback
We appreciate your valuable feedback. It's fantastic to hear your views. As always, we will strive to do the best we can and give you an outstanding patient experience and of course, improved health.