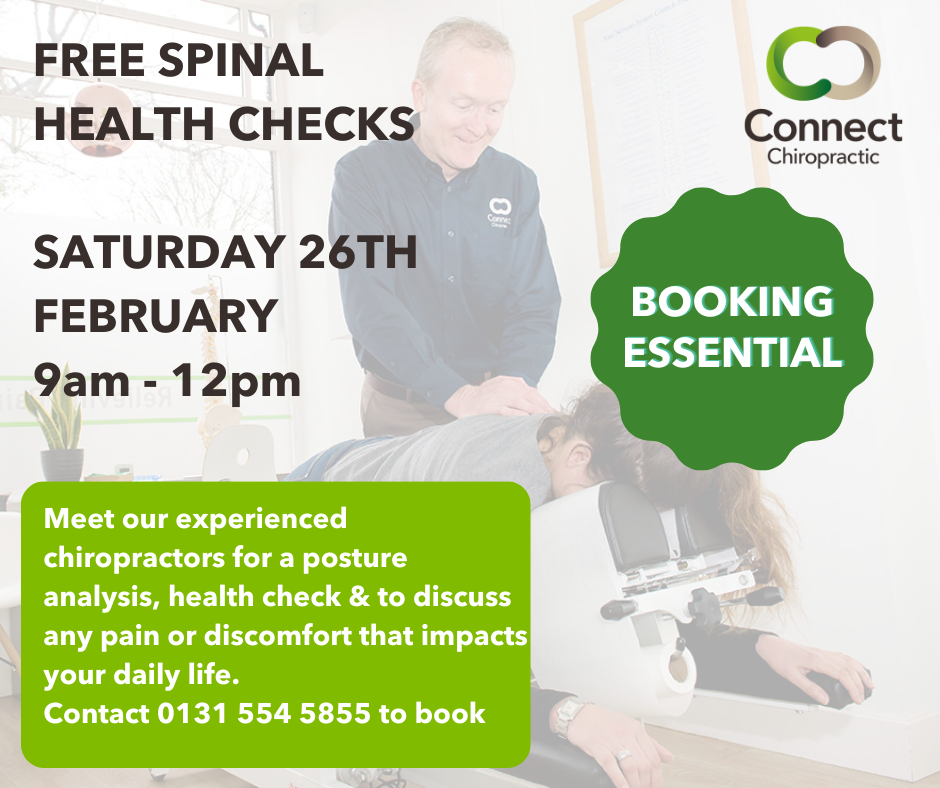 Book your Spinal Health Check this February with the Connect Chiropractic team of Chiropractors! We'll carry out a posture and spinal health check with you, talk through any pain or discomfort you might be experiencing and explain how our team can help get you back to feeling on top form again.
When you book your ticket, we'll get in touch to arrange a timeslot for you to attend the clinic to help us maintain social distancing, and we'll explain our Covid-19 safety procedures. Please ensure you provide a contact phone number for us to do so when you register.
Not sure if we can help? This doesn't just have to be back pain – our expert team see all sorts of neuromuscular skeletal issues and conditions and have helped thousands of patients. Our award winning clinic offers a warm and friendly welcome, as well as an expert approach to care.
Our Spinal Screening events are a perfect opportunity to come and meet us!
BOOKING ESSENTIAL Click Here to register
One of the team will be in touch to arrange a time slot for you to attend.
Give us a call on 0131 554 5855 if you have any questions!
Date: Saturday 26th February 2022
Time: Between 9:00am and 12:00pm (We will contact you to book you into a slot between these hours)
Location: Connect Chiropractic, 56 Queen Charlotte Street, Edinburgh, EH6 7EX (Opposite Leith Police Station)
Cost: FREE (Includes a special discount of 50% off your initial consultation if you choose to book after your spinal health check)