For many reasons researchers recommend that the majority of us should take some supplements.
There are lots to chose from but as chiropractors the ones we determine as most relevant to out clients are outlined in Our Essential Supplements Guide, which you can download here.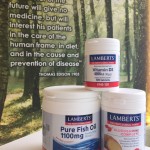 We chose to stock the Lambert's range as they are of the right potency, highest quality, supported by a valid scientific rationale and are manufactured for healthcare practitioners..
If you need to find out any more, then just get in touch.